Improved experience for the complete picker
Personal makes the picker highly player-oriented and customizable. It will make it mould around your play style to ensure you get the best hero draft possible.


Hero
Personal Advantage Scores
Bonus Scores based on how well you played lately with each of the heroes are added when calculating hero suggestions. See yours here.
If will help drafting heroes better suited to your play style and allows the learning of unsuccessful heroes only when they are very good in the lineup.
Test before you buy: Hero Personal Advantage Scores are available to everyone for one day every 5 days by rotation, if the servers are not overloaded. Personal removes all the restrictions.

Customizable
Algorithm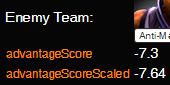 You can create the formula for suggestions that fits you best from various variables (like hero winrate, advantage, etc.) that we provide.




Favorite & Disliked
Heroes Selection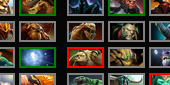 You can choose the heroes that you really like and that you don't. You can then only keep them / remove them from the hero suggestions with a single click, similar to how you can only keep disablers, initiators, etc.
Editable
Data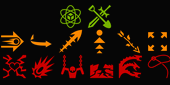 You get to choose what heroes are considered Carry, Support, Mid, etc.





---
Continuous matches indexing
We will get your matches all the time, not only when you log in. This will make the Hero Personal Advantage Score and any stats tool that we develop always be up to date.


---
Help us make this website better
Having funding will help us invest in better graphics, high-quality libraries and hosting. It will also allow us to dedicate more time to building more free features.


---
As low as 1$ / month
1 Month
2$
2$ / month
6 Months
9$
1.5$ / month
1 Year
15$
1.25$ / month
2 Years
24$
1$ / month
---
You need to log in with steam before you can go Personal: